The paper "Biobased Thermosetting Polyester Resin for High-Performance Applications" was selected for the front cover of the ACS Sustainable Chemistry & Engineering journal (Volume 10, Issue 11, published on March 21, 2022). This paper shows some of the work developed within the CORE Group towards the development of novel routes for achieving biobased unsaturated polyester resins (UPRs) from building blocks derived from renewable raw materials and reactive diluents with low styrene content. The bio-based UPRs highlighted in this paper exhibited high mechanical and thermomechanical performance while having over 50% (by weight) of their content derived from renewable resources.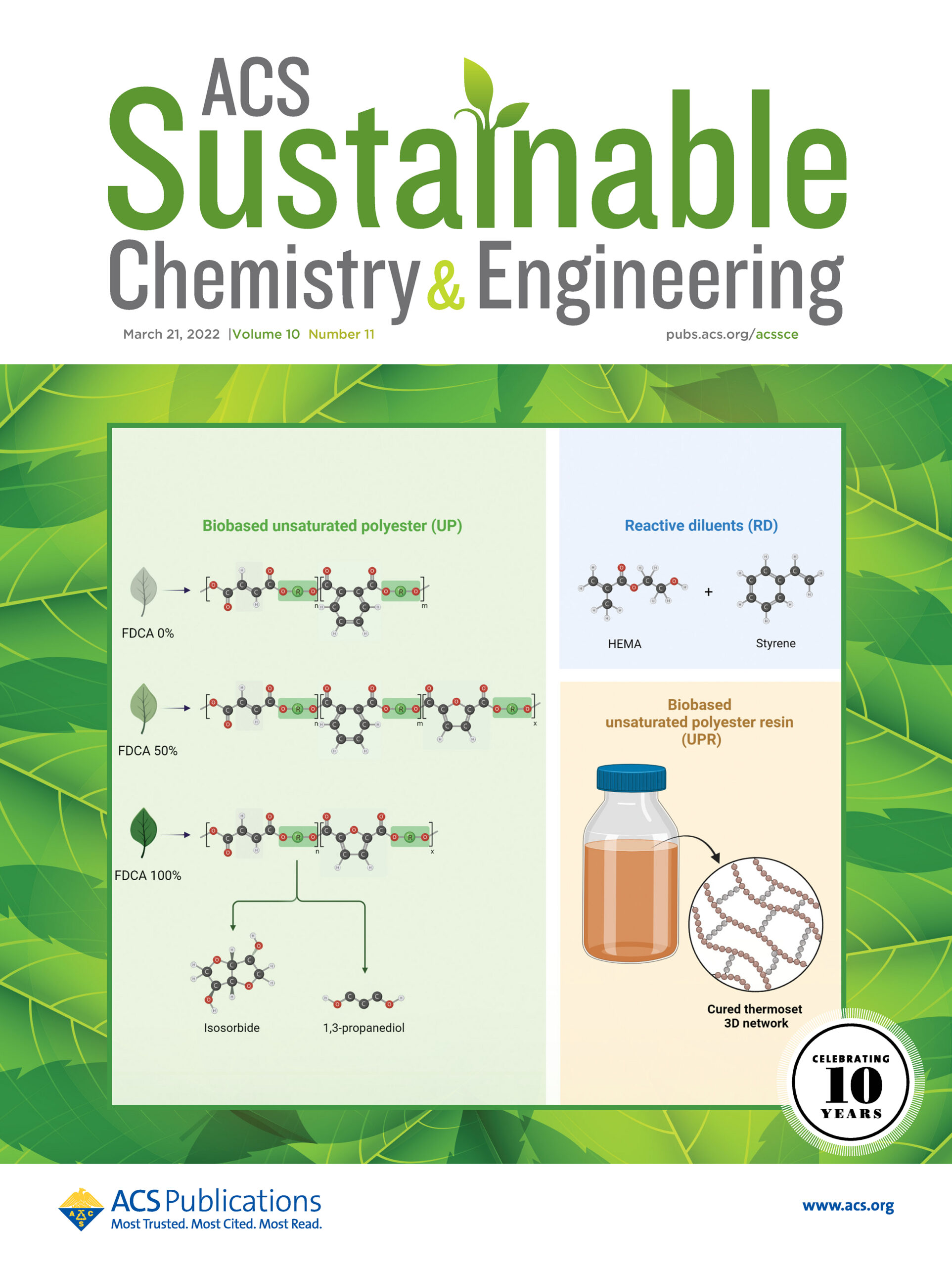 Below you can find the abstract for this paper:
"Reducing the dependency from petroleum-based monomers and crosslinkers is an increasingly important goal for the plastics industry. This is being enabled by the growing diversity and availability of alternative biobased products derived from renewable resources, some of which are compatible with the production of more sustainable resins for high-performance applications. This paper presents the development of unsaturated polyesters (UPs) and their crosslinked resins (UPRs) based on 2,5-furandicarboxylic acid (FDCA) and other biobased building blocks. The original features of these UPs are derived from (i) the use of FDCA as an aromatic monomer replacing phthalic anhydride, (ii) the introduction of a FDCA–isosorbide (ISO) block into the polyester backbone with the presence of unsaturations provided by biobased fumaric acid, (iii) the use of ISO and 1,3-propanediol instead of ethylene glycol and 1,2 propylene glycol, and (iv) the reduction of styrene content using 2-hydroxyethyl methacrylate. The developed UPRs have a similar thermal and mechanical behavior to the petrochemical ones, presenting glass transition temperatures up to 102 °C, tensile modulus and strength up to 3.9 GPa and 63.3 MPa, respectively, and viscosity between 800 and 1250 cP, making these resins greener alternatives to fully petroleum-derived UPRs for high-performance applications."
The full paper can be found here.